CleanSpace® Airtight Crawl Space Vent Covers in Arizona
Seal the vents and install a liner to preserve and improve your crawl space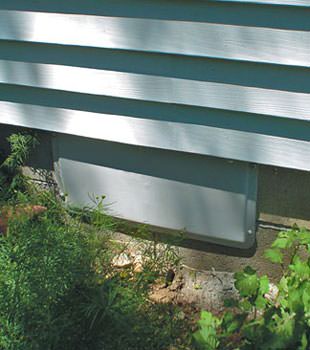 Our crawl space vent covers will prevent the elements and critters from disturbing your home.
Crawl space vents have proven time and time again that they just don't work. Originally intended to use outside air to dry crawl spaces, they do more harm than good when the air outside is hot or humid.
As an important part of our crawl space repair system, we highly recommend that you seal off your crawl space vents. This keeps outside air away, along with all the moisture, pests, and heat it brings with it.
We make it easy to repair your crawl space vent cover by providing a free inspection and estimate. As Arizona's trusted crawl space expert, we serve Tucson, Phoenix, Glendale and the surrounding area. Schedule an appointment for a free estimate with us today!
Installing vent covers
Our CleanSpace® Crawl Space Vent Covers install quickly, attaching mechanically to form an airtight bond. When we send our crew, one worker can install the vent covers while the others install the rest of your system. A typical installation takes less than one day.
Crawl space vents and your home
When you have ground-level openings in your home, they're an invitation for pests and rodents to enter your home. Termites, carpenter ants, wood-eating beetles, and crickets are especially attracted to moldy, rotting wood, and your vents serve as an open invitation for them.
Termites can live undetected for years in a home, damaging the wood and eventually causing serious structural problems.
Additionally, open crawl space vents allow hot air into your home. If you have any air conditioning or utilities in your crawl space, you can be sure that they're working harder and costing you more to keep up with the heat.
What kind of air are your vents using to dry your crawl space? If it's rainy or damp outside, then the vents are using damp air. If it's humid outside, then the humidity will be pulled into the crawl space, where the cooler air will cause it to condensate.
Contact us for a free estimate!
The better answer for crawl space repair is a vapor barrier system. Call or e-mail Arizona Foundation Solutions for a free crawl space quote! Arizona Foundation Solutions services Tucson, Phoenix, Glendale and many nearby areas in Arizona.