The CleanSpace® Crawl Space Vapor Barrier System for Arizona homes
Seal the vents and install a liner to preserve & improve your crawl space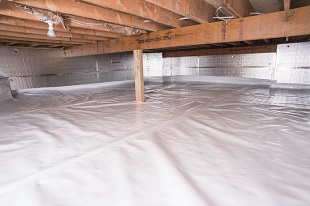 A moisture barrier is the most crucial component of crawl space waterproofing.
The CleanSpace® Crawl Space Vapor Barrier is the heart and soul of the CleanSpace® system.
This durable, bright white crawl space liner installs on the walls and floors, preventing water vapor and humidity from passing through. By keeping your crawl space dry, you protect your structure and insulation from mold and rot.
With a 25-year warranty against rips and tears, this durable 20-mil poly-reinforced crawl space liner converts your crawl space into a usable storage area. And with its mold-resistant additive "UltraFresh", CleanSpace® will never support mildew or mold growth on its surface.
We make it easy to repair your wet crawl space by providing a free inspection and estimate. As Arizona's trusted waterproofing contractor, we serve Tucson, Phoenix, Glendale and the surrounding area.
Installing your vapor barrier
The CleanSpace® Crawl Space Vapor Barrier installs quickly in your home, attaching to the walls with plastic pegs. Typical jobs take less than a day.
Benefits of crawl space encapsulation
Installing a crawl space vapor barrier is one of the most cost-effective ways to improve your home and prevent the need for future crawl space repairs.

Sealing Your Crawl Space...
Controls Mold & Rot
Save Money On Utilities
Keeps Away Pests/Insects
Seals Away Odors
Increased Comfort - No Drafty Floors
Increases Home Value
Additional Storage Space
Along with protection from mold and rot, a dry crawl space will also be inhospitable to termites, cockroaches, ants, crickets, and many other pests that need excess moisture to survive. Mice and rats are deterred by the plastic vapor barrier, and flooding waters will be kept at bay.
By sealing a crawl space, you also keep away odors and allergenic mold spores that would otherwise rise up through the floor and into your home due to the stack effect. Furthermore, this process will prevent the summer heat from entering your home.
The CleanSpace® crawl space vapor is compatible with products, such as crawl space sump pumps and the SaniDry™ dehumidifier.
Before and After Installing the Moisture Barrier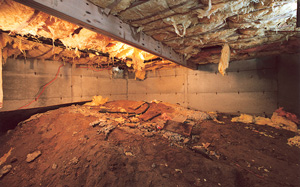 Moisture that enters the crawl space through vents and soil can ruin insulation and also encourage mold growth and wood rot.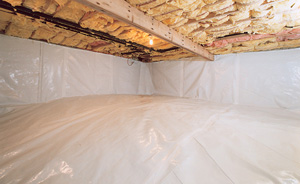 Covering the crawl space floor and walls with a heavy-duty moisture barrier eliminates moisture problems, makes the living space more comfortable and cuts cooling costs.
We offer free estimates for crawl space moisture barriers
Ready to get started on your crawl space moisture barrier? We have professional installers fully trained and certified to deliver results you can rely on. Arizona Foundation Solutions services Mesa, Scottsdale, Sedona, Chandler, Flagstaff, Peoria, Payson and many nearby areas in Arizona. Contact us today for a free estimate!