Crawl Space Door Installation in Arizona
Long-lasting crawl space doors that will never rot, corrode, or need paint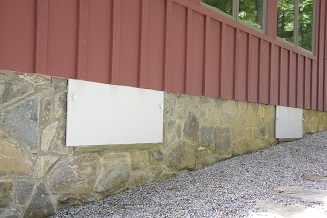 Our crawl space doors are airtight and made from high-quality materials.
Typical crawl space doors are made with painted wood panels. They're usually held on by metal nails or hinges. However, wood rots and metal rusts, and when they're installed on your home, they quickly begin to fall apart.
The EverLast™ Crawl Space Door is the answer to this problem. Made entirely out of completely inorganic plastics and foams, they are the best solution for the problems associated with crawl space doors.
Once installed on your crawl space, EverLast™ doors create an airtight, waterproof seal between your crawl space and the hot air outside.
Trust Arizona Foundation Solutions for professional installations for your crawl space doors using proven products and materials. We offer free estimates throughout Arizona - schedule yours today!
Installing new crawl space doors
Old crawl space doors lead to many problems. Along with being an eyesore, they also allow pests such as termites, ants, and mice into your home.
And because they're not airtight, they allow heat and humidity into your home, which leads to mold and rot.
Our EverLast™ Crawl Space Doors are created with ½" thick solid plastic, and they will never rust, rot, or need paint. Sturdy knobs allow for easy access and ensure a tight seal for many years to come.
New crawl space doors are inexpensive, easy to install, and keep your home looking great. You'll love how they complement the landscaping and make a subtle but powerful difference in the overall feeling of your yard.
Contact us for a free estimate for crawl space doors
If you're concerned about the state of your crawl space, Arizona Foundation Solutions has the answer you need. We offer free estimates and serve Tucson, Phoenix, Glendale and many nearby areas in Arizona. Schedule your free estimate today!