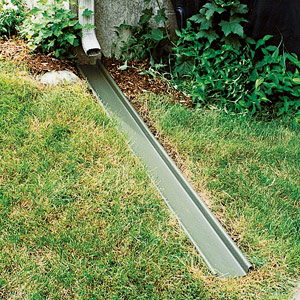 Many homeowners don't realize the impact that their gutters can have on their basement. When your gutters aren't draining properly, they can overflow or dispense water against the foundation walls, contributing to basement leaks. We provide three different gutter downspout extension options to ensure that your home has gutters that are directing water away from the foundation.
The RainChute® is a recessed downspout extension that sits flush with the ground. It's best where the lawn goes up to the foundation since lawn mower traffic won't hurt it.
The RainChute EZ® is an above-ground downspout extension that installs easily to direct water away from your foundation. RainChute EZ® is best used in a landscaped area because it isn't dug into the ground like the original version.
The LawnScape™ Outlet is a pipe buried from the downspout to a special LawnScape™ outlet that lets the water out onto the surface while camouflaging the end of the pipe with a lid that comes off for easy cleaning. The LawnScape™ Outlet is best used for downspout extensions over 8' long.